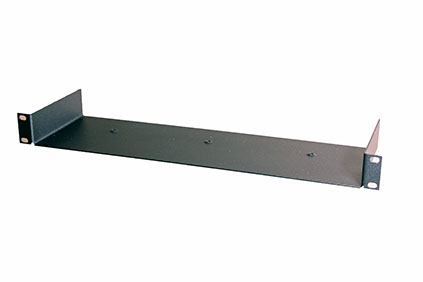 This custom-made "rack tray" is specifically designed to hold up to three of our 1/3 rack products in a "1U" rack space.
Secure mounting is accomplished by utilizing a US-standard 10-32 "rack" screw that is placed through a dimpled hole in the tray up into a captive 10-32 nut built into the base of our 1/3 rack products. Since all of our 1/3 rack products have four rubberized feet, tightening the screw causes the unit to compress the feet, thereby holding the unit firmly and resisting loosening due to vibration.
REPLACEMENT POWER SUPPLIES (U.S. users refer to here...)
We've all done it...you pack up after a gig and the next day you notice that your RNC's power supply is missing! Don't worry, we've got you covered: we sell replacement power supplies—for both US (check important 2016 developments HERE!) and European markets—at a reasonable price.
For some customers in other locales (e.g., Japan) local regulations require that power supplies be approved and sometimes even sourced by an official company in that locale. Be sure to check with your local authorities before sourcing one of our US/Euro for adaptation to your area!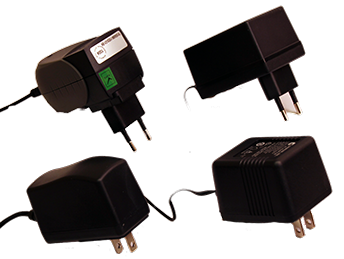 As a small manufacturer of specialized audio gear, we often are at the mercy of vendors who supply us with parts. Over the years, we've had to change our knobs (much to our chagrin) because of part unavailability or price increases. Additionally, there's a cool rack-mount product (check out FUNKLOGIC.COM) that sometimes our customers use and they sometimes misplace their knobs. It's a little tedious to have to grab pliers or vise-grips to change preamp gain or attack settings!
To help you deal with these circumstances, we offer select knobs for sale!
RNCUSWW
RNCEUWW
RNCUSDC2
RNCEUDC2
RNPWW
RTRAY
RNPBLUK
RNPBLKK
RNCBLUK
RNLAREDK
RNC/RNLA/PBC US AC Output (legacy) Power Supply
**No longer available**
RNC/RNLA/PBC AC Output (legacy) Euro Power Supply
**No longer available**
RNC/RNLA US DC Output Power Supply (reasons HERE)
RNC/RNLA EU DC Output Power Supply (reasons HERE)
RNP Power Supply (US/EU)
1/3 Rack tray adapter
Old-style RNP knob
Current-style RNP knob
Current-style RNC knob
Current-style RNLA knob
$––
$––
$15
$15
$18
$35
$ 5
$ 5
$ 5
$ 5
Please note that these prices do not include the price of shipping!
All prices quoted in US dollars. Prices subject to change without notice.
Please call for current pricing.